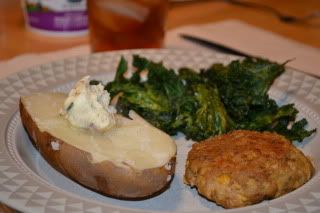 Baked potatoes are my favorite food. When I saw the recipe for Salt Baked Potatoes in Cooks Illustrated, I thought, "why mess with perfection?" Then,
my blog crush posted that she made these
, so of course, I had to. The first time I made these, Mark had not even finished chewing his first bite before announcing these were the best potato he has ever eaten. The are pretty good. The normal variety are also fine in a pinch. These are pictured with chickpea cutlets and kale chips.