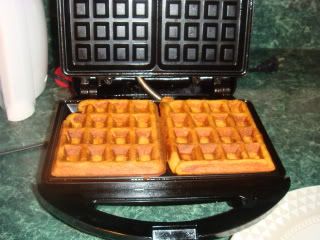 I was looking for something fun and easy for Christmas morning and came across
this recipe
. Unfortuately, I didn't have enough time to make it Christmas morning (had breakfast casserole at my parents house so no worries), so I made it earlier this week.
Here are my trusty helpers:
I had a lot of the ingredients on hand because I had wanted to make gingerbread men. Also, did not happen. This recipe not only had ginger and molasses, but also some canned pumpkin. Hey, anything to get Andy to eat fruits or vegtables!
The waffles turned out ok. Honestly, the biggest issue was that they didn't come out of the waffle maker crisp on the outside. They were kind of chewy. Eating them wasn't so bad though.