This week, even though I wasn't sure if I needed it to fulfill my challenge, I went to the
Denver Downs
farmer's market. They also had SC certified produce. I picked up a couple of big tomatoes, some raw peanuts, and some...get this...sun dried tomatoes....yum!!
With the big tomatoes, I made the
Herb Stuffed Tomtoes
from Giada. I served it with cedar planked salmon and this meal went great together. Easy to put together, and tasty, I would definately make this again if I ever have a lot of big tomatoes to use up.
I bought the peanuts for Mark. I was hoping he would "parch" (roast) them. With the football games this weekend, I thought this would be great football food. Mark decided he would rather boil them. To do so, you basically boil the peanuts for 2 hours with 2 TB salt. Taste periodically and add salt as needed. Yuck, I hate boiled peanuts. They taste like squash.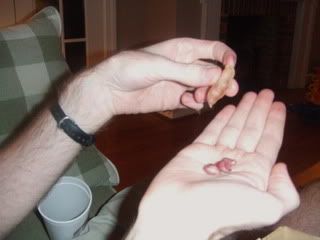 Sun dried tomatoes are one of Mark's favorite things...along with angel hair pasta and goat cheese. I saw a recipe for
Angel Hair Pasta with Sun-Dried Tomatoes and Goat Cheese
, also from Everyday Italian and I knew I would make it for my dear husband. These fresh sun-dried tomatoes seems like the perfect excuse.
Mark is waiting for the computer. I will announce the September challenge later, I guess.