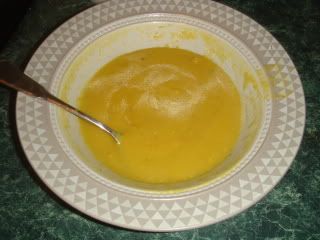 hhttp://www.blogger.com/img/blank.gifttp://www.blogger.com/img/blank.gif
I know. That doesn't sound to appetizing does it. A summer squash soup?
I made this back in June
and posted it on my
vegan orange
blog. Liked it well enough. Well, we started to have another run of squash in our CSA shares and I decided I was going to make this to freeze. I made this one afternoon after a week of allergies. I think I was in denial. Later on that day, the full on summer cold hit, and I was so glad I had this soup! It was the only thing I ate for like two days and I wish I had more. Not saying I wouldn't prefer a nice butternut squash soup in the winter, but this was good for now!