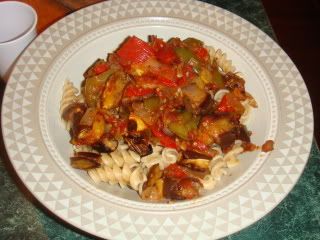 It might surprise you that people regularly ask me to join this blog. I do send them an invite and then, nothing. One of those people is Becky. Hi Becky! She is my neighbor. Becky is really known for her ratatoullie. I feel like I have given her a chance to post it, but now I am going to. We have had a big run on eggplant in our CSA, and most of the vegtables I used in this dish were from the CSA.
Dressing
2 tablespoons balsamic vinegar
2 garlic cloves, pressed
2 teaspoons dried oregano leaves
1/2 teaspoon salt
Vegetables and Pasta
5 plum tomatoes, cut lengthwise
1 medium eggplant (1.5 pounds), cut into 1/2 inch slices
1 medium zucchini, cut into 1/2 inch slices
1 large green peppers, stemmed, seeded and quartered
1 large sweet onion, cut into 1/2 inch slices
1/4 cup olive oil
2 tablespoons snipped fresh parsley
1 pound uncooked penne or rigatoni pasta
grated fresh parmesan cheese
For dressing, combine vinegar, garlic, oregano, and salt. Set aside.
Cook pasta according to package.
Prepare grill for cooking over medium heat. Prepare vegetables and brush with oil.
Grill onion 10-12 minutes and tomatoes, eggplant, zucchini, and pepper 6-8 minutes, uncovered.
Remove vegetables from grill and cut into bite-sized pieces. Place vegetables in large bowl and drizzle with dressing. Serve over pasta and top with grated cheese and parsley.
I roasted the vegtables in the oven. The dressing really gave a lot to this and I have been making it every other week all through this eggplant season.