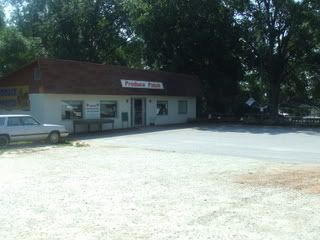 Last week, I met my husband in Wahalla, SC for lunch at the Steakhouse Cafe. They have the best fried chicken ever. Anyways, I stopped at their produce stand to pick up the week's produce. This one was a little different from the other ones I had been to in the fact that it was a "certified SC produce stand" with "certified SC produce". Good to know.
I picked up vidalia onions (ok, from Georgia, but it is the next state down), SC certified sweet potatoes, and SC certified lemons. I had no idea they grew lemons in SC, or that they were in season, but there they were.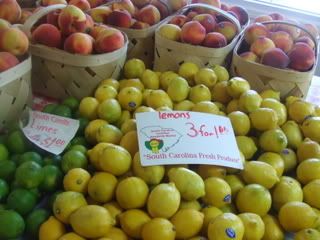 The first thing I made was the
Vidalia Onion Risotto with Feta Cheese
from Cooking Light. I have made this before with Texas 1015 onions, but this was the first time I made it with the real thing. I forgot to take a picture. I hadn't make a risotto in awhile, I guess I am worried that it is too much work...all that stirring...but it was very relaxing.
With the sweet potatoes I made my favorite Sweet Potato And Ginger Salad. This is such a great salad. I like to serve with with BBQ. The freshness of this salad balances out the heaviness of the BBQ. Next time I make it, I am going to use red onions instead of green and use it for tailgating at Clemson games. I took a picture, but it did not come out. Here is the recipe:
SWEET POTATO AND GINGER SALAD(Everyday Food; June 2005) Serves 4Prep time: 10 minutes Total time: 45 minutes1. Preheat oven to 425. On a nonstick rimmed baking sheet toss 2-1/2 pounds sweet potatoes, cut into 3/4" chunks, with one Tbsp olive oil, 1 tsp. coarse salt, and 1/4 tsp ground pepper; roast until fork tender, about 35 minutes.2. In a large bowl, whisk together 2 Tbsps. fresh orange juice, 1 Tbsp oil, 1 Tbsp minced fresh ginger, and 2 tsps. Dijon mustard. 3. Add 3 scallions, thinly sliced crosswise, and potatoes; toss to coat with dressing. Season with salt and pepper if desired. Serve warm, cold, or at room temperature.
I intended just to use the lemons for my tea or for little things, but the
Glazed Lemon-Buttermilk Cake
from Cooking Light had gotten some good reviews and decided to give it a try. Mine came out pretty dense, but the glaze really brings the lemon home. It is very good in the morning with coffee.