I belong to this one playgroup that meets every Wednesday morning. Earlier this year, it was hosted by Susie. She used the playgroup as a little birthday party for one of her three (3!) boys. The snacks she provided were amazing: cupcakes, homemade chex mix, and these wonderful decorated cookies. The cookies were professionally wrapped and decorated, but we soon realized that she had done them herself. And she has three boys. And (this one is for Melissa) she is a pharmacist. I knew that I had met my match. ;)
With Christmas here I wanted some cookies to have the kids decorate and Susie was nice enough to share her recipe with me. It is a long process. I made the dough one evening and let it chill overnight:
The next day, I rolled it out and James helped me to cut out shapes (Andy was sick and napping):
After the cookies had baked and cooler, I made the icing. Twice. First time the icing ending up tasting kind of funny. It uses crisco, and mine apparently was best if used by 2007. Who would have thought. To be honest, I wasn't sure about the crisco, but look at that nice white color: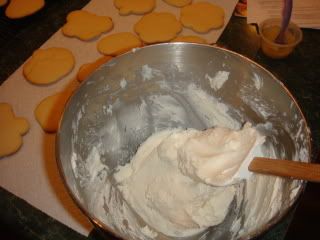 After icing the cookies (not nearly as nicely as Susie does hers), I let the kids use sprinkles to decorate them. Good in theory, but not so effective. Next time I will try to use little candies. James put forth a nice effort: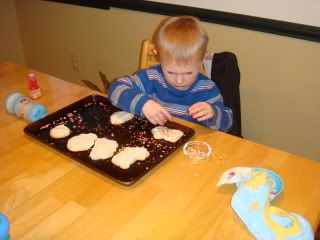 Andy, put forth effort in eating the sprinkles:
I took them to get hair cuts while buying Crisco#2, can you tell? Here they are eating their cookies: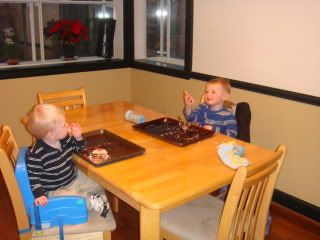 Now the recipe:
Cookies
1 1/2 cupes powdered sugar
1 cup butter softened
1 1/2 tsp vanilla
1 egg
2 1/2 cups self rising flour
- mix together sugar, butter, vanilla, and egg. Gradually add flour. Divide into 2 rounds. Wrap and refridgerate at least 2 hours. After rolling and cutting out, Susie usually refridgerates them again before baking. Not essential for round cookies, but helps other cut outs hold their shape better.
- bake 375 for 6-8 minutes
Buttercream frosting
1/2 cup butter, softened
1/2 cup crisco
1 tsp vanilla
1 lb powdered sugar
3-4 Tb milk
- Cream butter and crisco. Add vanilla. Gradually add sugar. Add milk a little at a time to moisten frosting. This buttercream will dry hard, but if pushed it will mush down.
Royal frosting (I didn't make this, but hope to try it next time!) - it dries hard
1 lb powdered sugar
3 Tb meringue powder
5 Tb water
- mix all together at high speed for 7 minutes until still peaks.