Man, I am a little bit behind. This one is from Sept and Oct 2011 pg 21. While I do like the Cooks Illustrated, it really isn't all vegan friendly. This one is vegetarian and it used up some of my continuous CSA produce. YIKES! Like most Cooks Illustrated recipes, this one is a little labor intensive. Here is the set up. It took me about 2 hours to get it ready.
After assembly. Since the recipe called for one 9x13 pan, I immediately split it into two 8x8 pans. One is in my freezer.
Here is the clean up:
After baking:
And on the plate: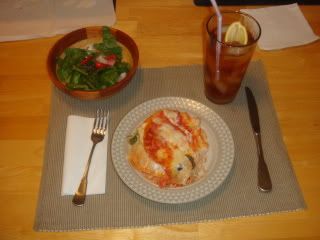 I thought this one was fine. Really, this is a lot like my favorite baked ziti, also from CI, and really there is no better. However, I really just didn't like the zucchini and squash in it. Just not a fan.