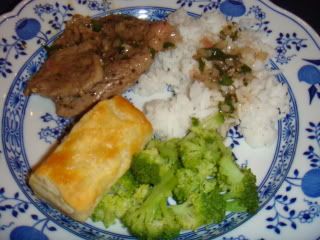 Had a little dinner party the other night and decided to break out Julia again. The puffed cheese appetizers were in a section following how to make your own puff pastry. Who does that? I used store bought. They turned out ok. It was pretty easy, so I can see myself making some version of these, but maybe not these exact ones.
Puffed Cheese Appetizer
- roll out puff pastry dough
- sprinkle cheese down the center
- flip bottom half over cheese
- sprinkle more cheese
- flip top half over cheese
- roll out again to almost original size
- repeat cheese and flip steps (probably should have done this two more times, but I only did it once)
- cut into 2 inch by 3 inch strips and place on baking sheet
- paint tops with egg glaze and sprinkle with cheese
- bake at 450 for 10-15 minutes
The steak diane is really a family staple. I don't make it as much as my mom does, but I am always happy to eat it when she makes it for me! You can use steak or thin pieces of chicken. It is so easy to make, and although I did prep as much as I could ahead of time, I had it finished by the time the rice was done cooking.
Steak Diane
- pound 4 steaks to 1/4 inch thickness. Grind thick layer of pepper on surface (recipe called for green peppercorns, but I just used black). Rub on soy sauce and olive oil.
- Saute steaks in 1 TB olive oil andn 1 TB butter ~ 1 minute on each side. Set cooked steaks aside.
- Add more butter and oil. Saute 1/4 cup parsley and shallots for a few minutes.
- Combine 1 cup beef boullioin, 1 TB cornstarch, and 1 TB Dijon. Add to pan. Cook for a moment.
- Add 1/2 tsp worcestershire sauce, juice from half a lemon, and 2 TB of port (or substitute). Cook for a few minutes.
- Add steaks back to pan to cook in sauce for a few minutes. Serve and enjoy!