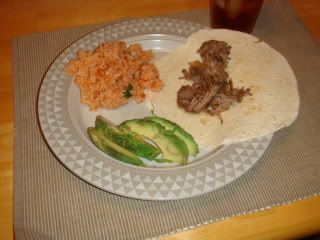 In case you missed it, someone has started a weekly
"what a crock"
thread about using their slow cookers. I am not sure if I have mention it on this blog, but I have a love/hate relationship with my crock pot. I just think it still cooks a little high and for best results, I use my oven. Since I am a SAHM, I am able to do this. But still, you can find apropiate crock pot recipes and I was hoping this was one.
Chipotle Roast for Tacos
3 lbs Beef Chuck Roast, trimmed of visible fat
*(or try with a Pork Roast)
1 teaspoon salt
1 teaspoon pepper
2 teaspoons chili powder
2 teaspoons cumin
3 chipotle chiles in adobo, chopped
1 (4 ounce) can chopped green chilies
1 (7 ounce) can Salsa Verde
1 cup chopped Yellow or Red Onion
3 teaspoons minced garlic
1 cup beef broth
Directions
**Place chuck roast in large crock pot and sprinkle with the salt and pepper, chili powder and cumin.
**Add the remaining ingredients and simmer on high for 5 hours or on low for 7-8 hours.
**Shred the meat with a fork and simmer on high for additional 10-15 minutes.
**Serve in taco shells, rolled up in Tortillas, or on crusty rolls with some of the juice for dipping (ala a French Dip)
I pretty much followed the recipe as written, well, I just didn't use much beef broth. I find there ends up being plenty of liquid. It was ok. I think I like using a rump roast for this as it shreds easier. It was a good basic taco filling.
I served it with
mexican rice
from another thread. This rice turned out pretty close to what you get in "real" mexican restaurants. I was still a little disappointed. It might need a little more salt, but I did mix it up ahead of time, and put it in the oven with the start timer set. That might have affected the consistancy a little big.