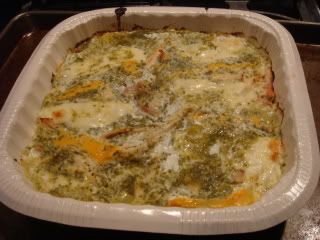 When trying to come up with things to make for this challenge, I thought this would be a good excuse to make some good enchiladas. I did a regular search and found
this
recipe on page two of my google results.
It was "layered" to make assembly easier. SOLD!
Although there were a lot of little steps to put this together, it still is a pretty simple recipe. I though the tomatillo sauce was great.
The only change I really made was to add some chedder cheese. The recipe calls only for fresh mozerrella, but I only bought half of the needed amount. I thought the chedder cheese added some extra flavor. Also, I used all of the sauce in making the enchiladas.
The recipes instructs you to make it in a 9 x 13 pan. I never make anything in a 9 x 13 pan. I always break it up into 2 and freeze one.
I thought this turned out pretty good....maybe it needed a bit more salt. I served it with refried beans and chips. Chips because I felt it needed something.