I was browsing the Let's try these blog looking for a fantabulous dessert. I am just in the mood for making something very fancy. I came across
this recipe for chocolate chip cookies
. Now, I am not usually a fan of chocolate chip cookies. I just prefer other types, but in reading this blog I found that Vivian feels the same way and on a whim decided to give them a try that night.
What makes these different is the browned butter. Now, normally I hate these types of things. The directions are something like "cook until brown" Well, how long does this take? How brown? I really don't like grey area. So, here is the point where I decided it was brown enough:
It actually got a little browner after I took it off the heat. This took about twice as long as the directions stated.
I think the browned butter gave the batter kind of a caramel consistancy. (I have made a couple of caramel cakes this spring inspired by The Help so trust me, it looked like caramel!) I tried to get a picture of this consistancy: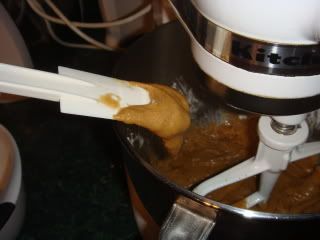 I added the pecans and just used regular tollhouse chips. I would not do that again. The pecans just added too much to the batter and the tollhouse chips just make it taste like the nestle tollhouse chocolate chip cookie:
The cookie dough was delicious though!