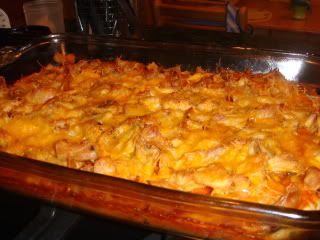 This
recipe was recently featured in Cooking Light.
I have been in the market for new casseroles. It is perfect to set up during nap time, then just program the oven to come on right before dinner, so a homemade meal is ready for me when I am ready for it. When I saw this one in the Nov issue, I knew I had to try it. It has NO canned soup, and got great reviews. It is so easy to put together, nothing to chop, just open a few cans...mix together, and taaaadaaa dinner!
I served mine with a guacamole salad. It wasn't as good as my mom's! Mark loved it. He told me to put it on heavy rotation, which shouldn't take long because I have half of most everything leftover.