Freezing casseroles is all well and good, but lets face it, it isn't always summer food. However, after having a baby in the summer, I learned you can freeze meat in marniade. Then all you need to do is thaw, grill, add a side, then eat. I found this recipe for a
chicken marniade
on my cooking light message board. It made a ton of marniade, and I marniaded 6 breasts.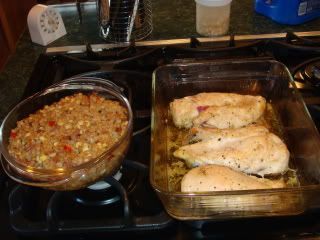 Unfortuately, the weather didn't cooperate so I had to bake instead. I paired it with a
Barley, Corn, and Provolone Bake
that I also hopes freeze well. Although I feel Mark suspected this was a healthy food item sent here to torture him, he actually enjoyed the entire meal quite a bit. Good thing because once I find room in a freezer, we will be able to enjoy the whole meal at a later date.