Since I had barley leftover from last week, I found
this
recipe that I could do in my crockpot.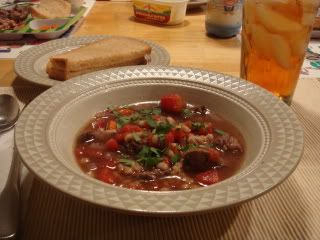 It took some prep to do before you put it in the crockpot. I am usually against that. The soup turned out ok. I swear the carrots still weren't quite done after being in the crockpot all day. The meat had a nice texture...not buttery like the stew I posted, but fine. The barely turned out really good though.
To be honest, the entire time I was making this I keep thinking how good a
mushroom and barley soup
sounded. Doesn't that sound good?
I served it with some homemade wheat bread from my breadmachine.