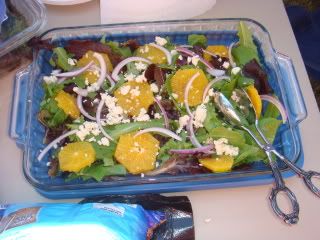 The recipe this post is based on is actually
orange and oregano
salad, but I feel like I have done too many orange things.
It has been my dream to do a great tailgating meal. You would think I would have already done this, but it takes quite a bit of planning and you have to have a good game time. Finally this year, I did a pretty good one. I had made that Rachel Ray salad a couple of years ago, liked it, and kept it in mind for exactly this purpose.
My changes:
- Used some mixed greens as a base.
- Used a white wine vinegar for the dressing and chopped up the oregano and put it in the dressing.
- Mixed dressing and greens.
- Arranged orange slices and red onions over the greens then sprinkled Clemson Blue Cheese (at $11.99 a chunk!)
I served it with Giada's Italian Muffletta. It was impressive. I should have took a picture before cutting into it.
All in all, a great lunch for a 3:30 game.
The game ended about 7...should have prepared dinner as well. Ooops!