Thanks to the heat, my CSA share has dropped off dramatically. I am really not all that upset by it. It is nice to have a break, and to not have tomato guts all over my kitchen. Not only that, but I can make whatever I want, without having to include peppers, eggplant, or tomatoes in every recipe. FREEDOM!!! Finally got to make a few more recipes from my copy of
Peas and Thank You
. These are, well, Americanize Ethic, but I'll go ahead and count them.
The first one was Thai Veggie Burgers. I am having trouble finding a link to the recipe, but no worries, I was actually kind of disappointed in this recipe. I think there were two faults in this. It suggested using veganase as a condiment. Really, it needed a kick ass peanut dressing. Also, it calls for broccoli slaw. I have this thing about broccoli. I like it, but I don't like it in stuff. To me broccoli overwhelms the taste of any other ingredients, and I felt the same here. The good thing about this recipe was the texture. Michelle posted
a similar burger
but it was more old fashioned savory. If you are looking for a veggie burger this is a good one. Unfortuately, her "husband approved burgers" were consumed by my husband apparently when he was having a bad digestive day and he blamed it on those burgers. No way. They were great!
Next thing was
Chipolte Lime Tacos.
You marinade tempeh and then cook. I really liked this one. Tempeh is my new thing! You grate the tempeh and then marinade it. YUM!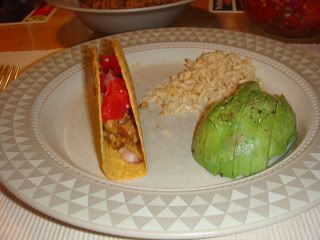 The kids love the choices of what to top their tacos with. Well, it is usually cheese.