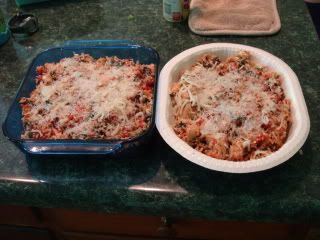 I did sparkpeople a few months ago, and they sent me an email with recipes for
meals under $10
. That was right around the time this challenge started, so I clicked the link to see what it had.
It had a couple that I will definately try, but this version of chicken and rice casserole really caught my eye. I know it was suppose to be healthy, but feta, sun dried tomatoes? It just seemed to have a lot of flavor.
I ended up making it on sunday. It did take awhile to put together because I had to cook the rice, then the chicken and the sauce. Again, I got 2 totally separate meals out of it, each meal will give us 2 dinners.
The brown rice made it a pretty hardy diet meal. I actually used 2 pounds of chicken, so there was lots of protein. I liked the feta in it, but could have even used less. Mark did not like the feta. The sun dried tomatoes gave it some nice flavor, but I bet you could sub black olives and never know the difference. The only thing I would really change is the spinach. Next time I would use fresh spinach that I cooked down in the sauce. Maybe there was too much of it, but it just seemed overpowering.
All in all, not bad. It definately didn't taste healthy or cheap, but it may not actually be either. Let's add it up.
Casserole
$23.88 to serve 14; $1.71 per serving; $6.82 to serve 4
Prep time: 15 minutes Cooking Time: 45 minutes
Yields: makes 14 one-cup servings
Ingredients:
2-3 large boneless skinless chicken breasts or
6 small ones (about one pound) - 2 lbs $4.00
1 1/4 cups feta cheese, crumbled - $6.00
6 cups cooked brown rice - $1.50
1 10 ounce package frozen spinach thawed - $2.00
and squeezed of excess liquid
1 28 ounce can tomatoes, diced or whole - $2.50
with juice
1/4 cup sun dried tomatoes, chopped finely - been in my pantry forever, who knows
4-5 garlic cloves, chopped finely
1 1/2 Tablespoons olive oil
1/4 cup grated romano cheese - used italian blend - $1.00
salt, pepper, basil, and oregano to taste
Instructions:
Put olive oil in large pan and add garlic Turn on heat to medium. When the garlic
has started to soften, add chicken and cook for about 3 minutes. Add tomatoes,
turn heat to low, cover and let simmer for 20 minutes or so. Remove chicken
breasts and set aside to cool. Add sun dried tomatoes and herbs to the tomatoes,
and chop chicken into bite-size pieces. Add the rest of the ingredients except for
the romano and mix thoroughly. Place in a large baking dish and sprinkle with
grated romano. Bake for 25 minutes or until cheese is brown on top.
= $17.00 / 2 +$8.50 per meal. Not bad!