What could be more economical then beans and rice, am I right?
Found this recipe on epicurious. I was planning on doing something more cajun, but this seemed interesting. I love those one pot meals.
Red Beans and Rice
3 bacon slices, chopped - $0.50
1 cup chopped onion - $0.30
3/4 cup chopped red bell pepper - $1.00
4 garlic cloves, minced $0.10
3 cups long-grain white rice - $0.50
3 bay leaves - who knows
2 tablespoons tomato paste - $0.10
1 tablespoon ground cumin
1 tablespoon hot Spanish smoked paprika (Pimentón de la Vera) (I used mild and a few dashes of chipolte powder_
2 teaspoons salt
4 cups water
1 15- to 151/2-ounce can kidney beans, rinsed, drained (I used 3 cups cooked dried beans) - $0.50
Total - $3.00...is that right? I am estimating, but we did get 2 meals out of this. I need to check some of these figures.
PreparationSauté chopped bacon in heavy 4-quart saucepan over medium-high heat until bacon is brown and fat is rendered, about 5 minutes. Add onion, red bell pepper, and garlic; sauté until onion is golden, about 5 minutes. Add rice and stir until coated, about 1 minute. Stir in bay leaves, tomato paste, cumin, paprika, and salt. Add 4 cups water and beans and bring to boil. Reduce heat to medium-low; cover and cook until rice is tender and liquid is absorbed, about 18 minutes. Remove from heat; let stand covered 10 minutes. Fluff rice with fork. Remove bay leaves. Transfer rice to bowl and serve.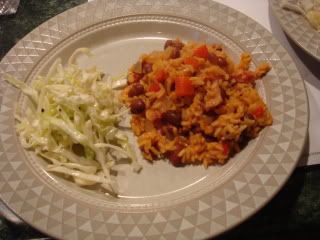 I paired my meal with coleslaw with a homemade cider vinagrette - about $1.00