I was in a CSA last year, but I never was very impressed. It seemed kind of pricey compared to what we got. It may have just been that year because it had been cool and rainy. But when things finally started to come in....it was over. I was hesitant to join it again this year, but really missed the challenge of cooking from my share. I found this one CSA that also had a stand at a farmers market. Just in chit chatting with him he told me that his shares were $10/week. I decided to go ahead and commit thinking that if I was disppointed, it wasn't all that expensive. This is what I got this week: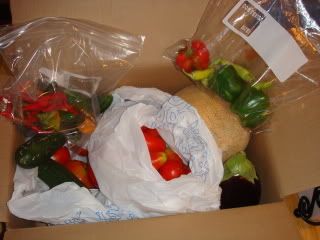 There is so much in here, that you can't really even see it all. It ended up being like 20 lbs of produce! Now, I am excited, but also a little afraid. What to do with all these tomatoes?!?!? First things first, I grilled some of the eggplant. I sliced a few pieces about 1/4 inch thick then maranaded it with olive oil, garlic, rosemary, plus salt and pepper, then grilled about 3 min on each side. YUM! Practically melted in my mouth!
Now, first batch of tomatoes - romas. You may not be aware of it, but
this post of salsa fresca
has gotten a lot of traffic. This was my base for my salsa. Put it all in the food processor and there you go:
In the orginal posting, the consistancy of the salsa was a litle thing. I cut off the ends of the romas and squeezed out the juice. I got a nice thick salsa: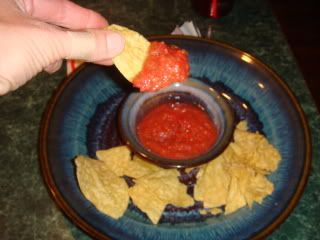 This was a great snack to eat while watching the tour de france!