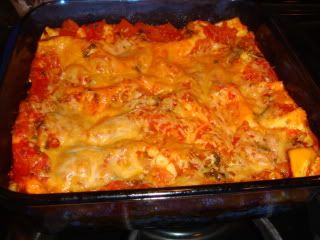 Robin posted
this
recipe in our first year. I never really considered it because really the last thing I want to do with my fresh tomatoes is spend all day in the kitchen making them into a lasagna. However, my CSA pickup had just as many tomatoes this week as it did last week and well, you got to do something with them!
And yes, it is lasagna so it is a little time intensive and yes, there are a lot of steps, but it really wasn't that bad. I used no boil noodles and blanced the tomatoes to get the peels off. Really, it was no problem. The directions call for you to make this in a 9 x 13 pan, so like always, I split it into two to freeze one.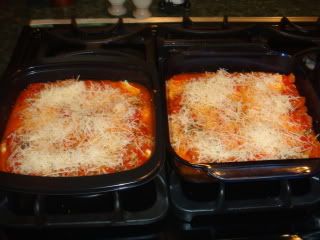 I really wasn't sure how this was going to turn out, but my husband, he is a little like Simon on American Idol, very stingy with the compliments. In his first couple of bites he said, "This is great. Very light. I like it." so there you go.
You do lose some of that fresh tomato taste because you simmer the sauce for so long. I did add some fresh oregano and rosemary to the sauce as well as basil cause I had some. But the result was still really good. Can't wait for that second pan.