Sometimes I make
these wontons
. I usually fry them and serve with brown rice, edamame, and sweet chili sauce, but in honor of this challange, I decided to use them to make soup. But I am getting ahead of myself. First I had to make the wontons.
This recipe is really great, but it takes awhile. The good news it makes about 100 wontons, so a batch in the freezer will keep you happy for while. First you combine all the filling ingredietns:
Then, set up a work station with a floured cutting board, wonton wrappers under a wet paper towel, a small dish of water, and your filling. It is helpful if you have some tunes on as well. I listed to 90's pop on Pandora. It was awesome. Barbie girl, anyone?
Lay out one wonton, and put about 1/2 TB on one side:
Dip a finger in water and run along the edges of the wonton:
Fold over and press edges to seal:
In this state, the wontons are perfect fine, but I don't have a lot of freezer space, so I try to compact them a bit: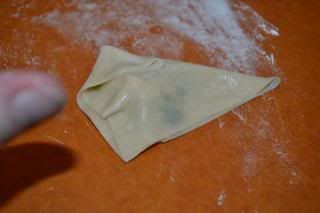 Then, lay on a tray not touching and freeze for about 30 minutes: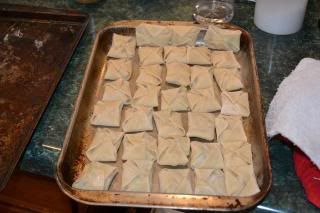 I had like 3 of those trays. After frozen, you can transfer to a plastic freezer bag and take out what you need. A serving ends up being about 8 wontons a person. Again, I usually saute them in a bit of olive oil, but I was making soup. I used a miso broth, which was ok, but I may not do that again. Bring to a boil and add wontons. Cook for about 3 minutes.