Really in the last year, our fish consumption has gone way down. That is mainly because I have been trying to watch our grocery budget and fish usually doesn't make the cut. At any rate, a little bit now and then would be nice, plus it will be god to expose the kids to a new food, right?
This week I started off my search for salmon because it was on sale. Then I decided to just make some sort of homemade fish stick and found
this recipe
. After reading it more closely, I realized that it was a fish stick designed for salmon...perfect! Now, normally I wouldn't waste a perfectly good piece of salmon to make fish sticks, but the decision was made. Fish sticks it was.
Although it dirtied a lot of dishes, this was pretty easy to make. And I have to say, this was the best luck I have ever had with some sort of coating/breading recipe. I think it was the frothy egg whites!
Here is getting everything ready:
After putting it all together, but before the baking:
The dipping sauce. I really wasn't a fan. I wouldn't have thought so, but if you combine sour cream, yogurt, dijon mustard, and parsley it just tastes like a fishy fish sauce.
After the baking:
The finished product. I served it with a fruit salad:
The kids plates. You can actually see the red of the salmon.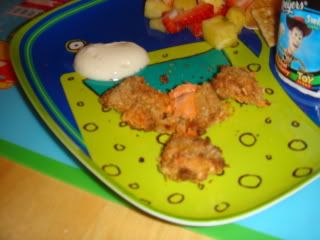 They didn't really like it. I think the coating was a little too much for Andy and James, well, I didn't want to turn it into a power struggle. He cleaned out his fruit salad though.
I probably wouldn't make this again, well, actually, I may try it with chicken fingers...