With this post, I just want to say, I try. I try to get my kids to eat their vegtables. I have tried a lot. We have "chopstick day" with wontons and edamame, and my kids hate chopstick day (this is actually a good thing when I go out for sushi). I use fun fish plates when making fish, they hate fish. I make zucchini cakes and call them "crabby patties". They fall down laughing when I tell them this, but when it is on their plate. "YUCK!" I made the following zucchini crab cake for dinner:
2 1/2 cups grated zucchini
1 cup bread crumbs
1 tsp old bay
1 egg or egg replacer
2 TB melted butter or margarine
Combine the above. Form patties. Dredge in flour. Fry in oil. Here is the kids version on a bun with ketchup option. Nothing.
The adults just had the plain patties served with baked sweet potato and homemade bread: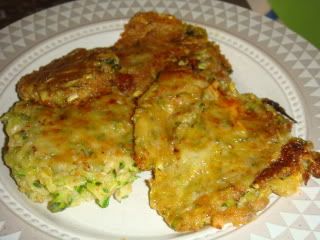 We thought these were good, although a little mushy. This might be to the fact that I made the patties in advance. To make them in advance, the extra moisture needs to be drained away! I would make again if I had zucchini from my CSA. (1 month to go!)