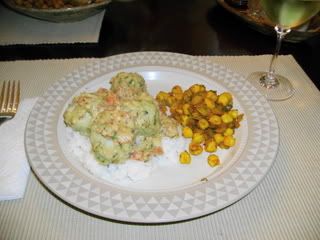 Ok, totally stole that title from Rachel Ray, but last night I made an Indian meal for my first challenge recipe. It was my dad's night to cook at their house, but he jumped at the chance to come over...even though it was a completely vegetarian meal. The appetizer was black pepper crusted goat cheese, which ok, isn't Indian at all, but it is very yummy and I just had some in my fridge. The main part of the meal consisted of Palak Kofta and
Fried Chickpeas
. The Palak Kofta is basically spinach and potato dumplings with a cashew sauce. I am not going to post the recipe because everyone should have it except for Mel who will be getting it. (If anyone out there would like the recipe, let me know and I will get it to you). These were great, but pretty labor intensive. I made the dumplings and part of the sauce in advance so when it was dinner time, I just put it all together. This is a very rich dish and the fried chickpeas when really well with it. They were especially good drizzled with some plain yogurt. I served this with some white basmati rice.
For dessert, I made
Mango Lassi
which were disappointing. I think we all were expecting something like a smoothie, and that really isn't what a lassi is. Maybe I was a little stingy with the mango, but I though they kind of tasted like cucumbers. But I know what you are all thinking, did Mark like them?
He probably liked them the most out of all of us and gave them a strong "not bad". He prefers pecan pie.