My challenge inspired my mom to make a completely German meal. I was inspired to get an invitation to eat it! Everything turned out great. We started out with an appetizer plate with some German cheese. Can't remember the name but it had basil in the title. Also on the plate was some hearty rye bread, spicy mustard and leftover bratwurst from the 4
th
of July. It was a good thing that the appetizer was filling, because dinner took awhile.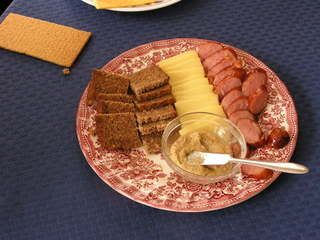 The main course was
wiener schnitzel
. My mom used veal chops cut off the bone and pounded thin. I made a
mushroom sauce
from Rachel Ray to make it into
jager
schnitzel. You can't have
German
food without red cabbage, and Mark LOVES red cabbage. After searching several sources, my mom just made the recipe for Sweet and Sour Red Cabbage from her Betty
Crocker
cookbook. Good old Betty! Sorry, I don't have the recipe handy, but it did have bacon in it.
The real kicker was the
spaetzle
. The following recipe is from Cooks
Illustrated
and I am writing it from memory.
2 eggs
1/3 cup milk
salt
pepper
nutmeg
1 1/2 cup flour
4 T butter
Combine eggs through spices. Add flour and mix until thick. Let sit for 10 minutes.
The recipe then said something about putting the dough into your
spaetzle
machine. Nope, no
spaetzle
maker. My mom did some research and we decided to try pushing the dough through the holes of a metal
colander
. This did not work so well. We ended up giving up and then just trying to drop small pieces of dough into boiling water. That didn't work well either because the dough was so sticky. It was slow going, but eventually we used up all the dough. After you drop your small pieces of dough into the water, you wait for them to rise to the surface when they are done. Put them in a warm bowl and add a little bit of butter with ever new addition. Boy, was I tired after making this, but it turned out SO GOOD.
Mark liked it!
Oh, and I also cut up some tomatoes from the garden to serve with dinner. Apparently, I didn't do a good job. Something about a hacksaw and peeling them first. Oops.
Dessert was German chocolate cake with ice cream.
It was a great meal. Thanks MOM!!!