Made two more recipes to finish out the month. The first is
HOSKA
. Just saying that word makes me want to go
mmmmmmmmmmm
.
This is my mom's recipes that she makes for family gatherings. My sister is coming to town next week, so we make
hoska
. The recipe is from a
Fleischmann's
cookbook.
5 to 6 cups flour
1/2 cup sugar
1 1/2 tsp salt
1 tsp grated lemon peel
2
pkgs
active dry yeast
1 cup milk
2/3 cup water
1/4 cup margarine
2 eggs at room temp
1/2 cup blanched slivered almonds, finely ground in food processor
In a large bowl mix 1 1/2 cup flour, sugar, salt, lemon peel, and yeast.
Combine milk, water, margarine in a saucepan. Heat over low heat until liquids are very warm. Margarine does not need to melt. Gradually add dry
ingredients
and beat 2 minutes at medium speed in an electric mixer, scraping bowl occasionally. Add eggs, 1/2 cup flour. Beat at high speed 2 minutes, scraping bowl occasionally. Add almonds and enough flour to make a stiff dough. Knead until smooth and elastic, 8-10 minutes. Let rest 20 minutes.
Divide dough in half. Divide each half into 4 equal pieces. Roll the 4 pieces into ropes 14 inches long. Braid 3 pieces together on greased baking sheet. Tuck ends under to seal. Place last piece over braid. Repeat with remaining 4 pieces
Cover
loosely
with wax paper brushed with oil.
Refrigerate
2 to 24 hours. Let stand at room temp 10 minutes.
Bake at 375 for 25 minutes. Cool on wire rack.
I like mine slightly toasted with unsalted butter for breakfast.
For dinner last night, I finally made
Pad Thai
.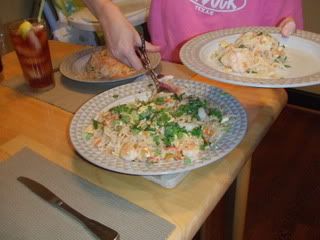 (I like the action shots)
Wow!! I would say that it was pretty close to what I had at Pei Wei. I was very impressed. Melissa - this might be a good one for you. I did all the prep work during
James's
afternoon nap so when I put it together at dinner time, it was ready pretty quickly.
I could not find tamarind anything, so I used the lime juice, water, and brown sugar substitute. I think if I ever do find that tamarind, that will put it over the top. What else...added tofu, grated carrots, sliced radishes, left out dried shrimp, salted radishes, and bean sprouts. I would
definately
make this one again, but I am not sure if Mark liked it. The only things he said about it were "IS THERE TOFU IN THIS??" and "I never ordered Pad Thai".
Lastly, I wanted to share the red cabbage recipe my mom made for our German night. I have tried several, and this is the one I liked best. From Better
Crocker
- go figure!
Sweet-Sour Red Cabbage
1 medium head red cabbage
4 slices bacon, diced
1/4 cup brown sugar
2 TB flour
1/2 cup water
1/4 cup vinegar
1 tsp salt
1/8 tsp pepper
1 small onion, sliced
Prepare and cook 5 cups shredded cabbage as directed on page 420 for red cabbage (be sure to add the 2 TB vinegar or lemon juice to salted water) (sigh, I don't have page 420 - sorry!)
Fry bacon until crisp; remove and drain. Pour off all but 1 TB bacon drippings. Stir brown sugar and flour into bacon drippings in skillet. Add water, salt, vinegar, pepper, and onion. Cook, stirring frequently, about 5 minutes until mixture thickens.
Add bacon and sauce to hot cabbage. Stir together gently and heat through. 6 servings.
Ok
, that is finally all. Not onto the challenge wrap up.