I was hoping to start a new family tradition featuring a pancake dinner. The tradition idea got a leukwarm reception, but that didn't stop everyone from gobbling up the pancakes!
I used
Alton Brown's instant pancake mix recipe
as my base. You mix enough dry ingredients up for three batches, then whenever you are ready, you add the wet ingredient which consist of a lot of butter. Be sure to shake up your buttermilk to get consistant results! Also, I found the batter to be a bit thin for my tastes, so I don't add the full amount of buttermilk.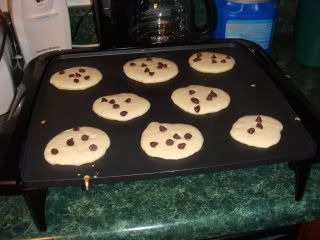 We made a variety of different types: plain, blueberry, chocolate chip, and banana nut. Banana nut seemed to be the favorite, but yuck, I hate bananas!
For my family, which consisted of 6 adults and 3 small children, I made a double recipe and had a total of 2 pancakes leftover.
Man...who took this picture?