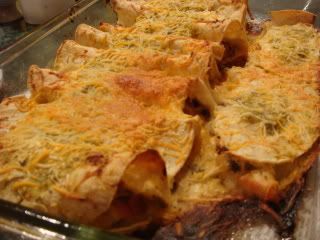 So, I finally got my hatch chile peppers. Well, about half of them. I am not going to post the link to the company I order from or anything. That is a mess for another time.
But I did order some hatch chile peppers with the intention of making some kick ass chicken enchiladas with them. Actually, when looking for a recipe, I didn't really see what I was thinking of, but
this
one by Tyler Florence seemed interesting.
The result: underwhelming. Perhaps it was operator error, I used smaller tortillas and ended up with 2 dishes with a total of 20 enchiladas. The tomatillo sauce was good, but you really lost the flavor of the peppers. On with my quest to find a different enchilada sauce recipe. I have plently of chiles leftover to use up.