So, I have been blog stalking Michelle. I have added her personal blog to the blog roll (sorry it took so long) but she has a separate blog just for food. I have made a lot of things from it, and so far, have made two things for this challenge that I got from this blog. I think for her family, both of these would be considered "main dish" but for us, they are sides.
The first one is
mushroom orzo
.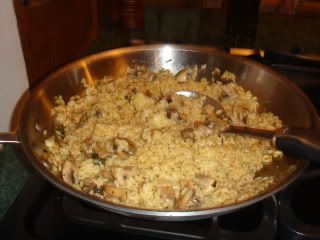 I really need to learn to take better pictures. At any rate. This one looked easy, but good. I made it friday night and served it with some grilled pork tenderloin. I did like this, I really liked how the soy sauce gave it some color and flavor, liked how the mushrooms turned out, did think maybe it needed a shower of some parm cheese, but it was a good side. Mark said he loved it, but then picked out the mushrooms. What a waste!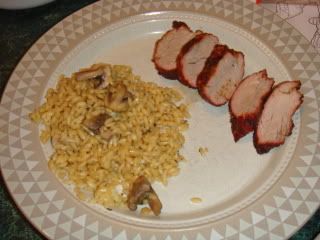 I have to add, I did intend to have a veggie with this meal, but we played at the park too late, then the fire wouldn't start, then the painter showed up, so we had meat and carb.
The second recipe I made this evening. This meal was inspired by a friend who gave us some homemade sauerkraut. We got some brats and I made
this recipe for pinto beans
.
Again, no green, but boy howdy this was good! The beans were a nice addition, it was a good basic recipe. I even had the feeling that there was some meat in there. I personally needed more salt...maybe double, but it was still good.
And I would hate to out myself even more, but I might also be making chicken and orzo and black bean tortilla bake from the same blog...I am just a blog stalker!