This is actually the hot version,
Noodle Salad with Peanut Mmmm Sauce
:
But I put leftovers in the fridge. Later on that week, I was packing for a picnic. Heck, just grabbed the whole contained and was ready to go. Turned out to be a pretty nice picnic lunch. Wish I took pictures of that. I served it with
broiled tofu
, which was good with the peanut sauce, but really, just tasted like burnt tofu.
Here is a picture of a meal eaten outside.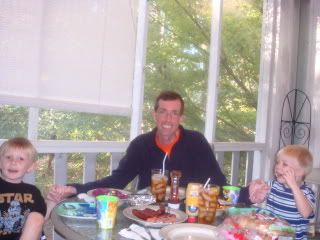 My husband requested brats for his birthday dinner. I paired them with sweet potato fries and as a special surprise, his favorite
red cabbage
. Yes, my husband is weird, but that guy really loves his red cabbage.