Our first outing To Eat Outside was last week. We were going to watch the parade. We means, me and the two kids. My husband was actually in the parade. The parade started at 6pm, and my plan was to get there at 5:15 and eat dinner. For me I made one of my recent favs, a roasted veggie wrap. To make, I simple take all my veggies from my CSA, cut them up, and roast at 400 degrees for about 20 minutes. I usually add a sliced onion, but I get that from the grocery store.
I also baked and mashed a sweet potato to add to the kids' cheese quesadillas. Yeah, that didn't go well. My kids are too smart. James ate cantaloupe and Andy ate chips.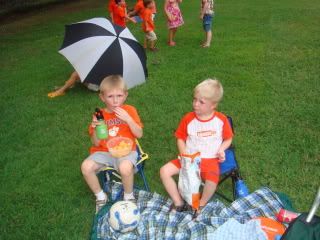 A key ingredient of this wrap is
Mmmmm sauce from Peas and Thank You
. It is like a cheesy curry sauce and is oh, so good! I forgot to take a picture of my wrap, but it was delicious. Later on I took a post-parade picture of Mark's dinner.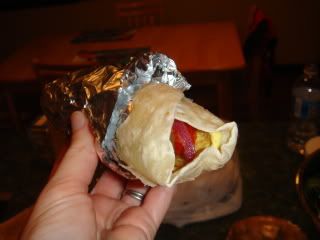 And what do you know, later on, the kids managed to choke down their sweet potato and cheese quesadilla: