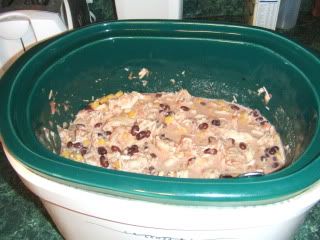 This is another recipe I got from my Cooking Light message board several years ago. The recipe is easy.
Crockpot Santa Fe Chicken
1 lb boneless skinless breast
1 can corn (I used frozen)
1 can black beans, drained
1 16oz jar salsa
- Combine all ingredients in crockpot.
- Cook on low for around 8 hours.
- Remove chicken.
- Add 1/2 brick cream cheese to crockpot and allow to melt.
- Shred chicken and mix back into crock pot.
From here you can do several things. You can serve it over rice or polenta. I used it to make burritos that first night.
For the next meal, I mixed the leftover chicken mixture with 1/2 pound cooked pasta. Sometimes I will use pasta that I have frozen to make this meal. You can add a little milk, chicken stock, or pasta water if it seems to dry. Transfer pasta mixture to a baking dish sprayed with cooking spray and sprinkle with some sort of cheese. Bake at 375 for around 30 minutes.
I took a picture, but I can't find it...it must have not uploaded. I will work on that. This meal isn't great, but it is super easy and the kids love it.
Found pictures!