I found
this
recipe in my 30 Minute Meals 2 book in the section for double duty dinners. I am not sure what makes it spanish style, but it was pretty good. The recipe is very simple, but it had a lot of flavor. For some reason, I only took a picture of James's plate:
For dinner #2, I put the beef and rice into leftover HATCH peppers from last year. I did follow the spirit of the recipe, but made several changes: used kale instead of spinach (thanks CSA!), did not mix or reheat filling with broth, just drizzled in some tomato sauce instead of mixing it it, and finally, I did not grill the peppers, just baked them for 375 for about 30 minutes. I served it with corn muffins from the freezer.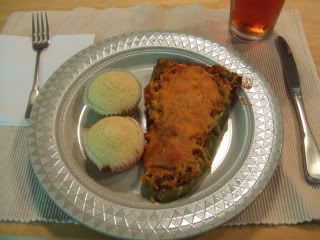 Both of these dinners were fine, but I probably wouldn't make them again.