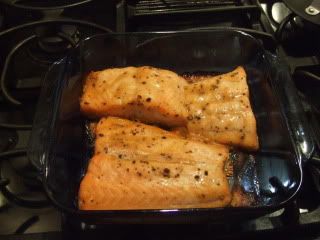 So, pre-kids I used to make salmon whenever it was on sale. I could usually get it for $3.99/lb, and salmon is so rich, Mark and I could get away with getting between a half and three quarters of a pound. Even then, occationally we would have leftovers and lets face it, who wants to eat leftover fish? I came across a recipe to use leftover salmon and make a cake out of it. The source I used was Quick Fix Meals by Robin Miller. This is actually a great book to get tips for cooking quickly and she has a lot of these "morphing meals". For
meal #1
, you roasted the salmon with a small amount of a honey mustard glaze, and served it with additional sauce at the table. Cooking salmon in this way is so easy and flavorful...and it doesn't stink up your kitchen! Mark really liked the sauce, I did make a sub for the hot mustard powder, and thought it would be better as written.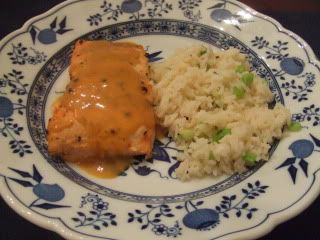 I was really excited about the
asian salmon cakes with the wasabi cream
! The cakes themselves were fine, although a little uninteresting. I hated the cream :( I used wasabi powder instead of paste and I think something is wrong with it. I served it with some greens from my CSA and made a ginger seasame dressing. It wasn't bad. It did stink up my kitchen a little bit.