I am so behind.
I made
this recipe
about two weeks ago. No, actually I made it years ago, wasn't all that impressed, but after hearing some recent glowing reviews about it, decided to try it again. I am on this vegan kick and I love making a bit pot of soup at the beginning of the week and eating it for lunches after that. This recipe makes a lot so it would be perfect. I made it the night before
our snowy day
. One major change I did from the original is that I backed way off the heat. The first time I made it I remember it being unbearably hot, and I like heat! This time I used no red pepper and half the chili powder. Results this time, eh, it was ok. I think the problem is that I have another lentil soup that I liked better. For lunches, I added more chili powder and purreed the whole thing up. Glad I did. This one is actually vegan/gluten free.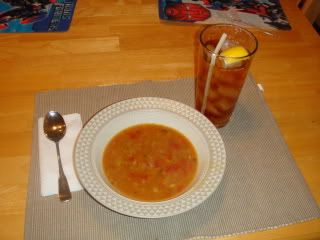 Oh, but a key component of lunches is some great bread:
And honestly, it was just screaming for a dollup of greek yogurt, so not vegan either:
We ended up being stuck at home for about a week. We traded lunches with the neighbors and I fed this to a few different people. They all said it was good, but again, I felt it was just ok.