michelleshedoesn'tmeananythingtomeiwasthinkingofyouthewholetime!
In my attempt to get back on track with my eating, I have stopped buying those Quaker chewy granola bars. Not that they are really that awful, but we have just been trying new things. When I saw
this recipe on a vegan blog
I couldn't wait to try them! This is a really great blog. I even asked her a question and she answered me! The question was about whole wheat pastry flour. I have looked for it, and couldn't find it anywhere. Well, according to MamaPea whole wheat pastry flour = white whole wheat flour. Michelle, is this true? I want to believe, but am not sure... I just so happened to have a bag in my pantry:
Now, this is a vegan recipe, but I didn't quite make it vegan. I don't have vegan butter, or vegan chocolate chips. I am still new at this and all these new ingredients cost money. This one box of cereal cost $4.99!
You combine the dry ingredients:
And the wet ingredients: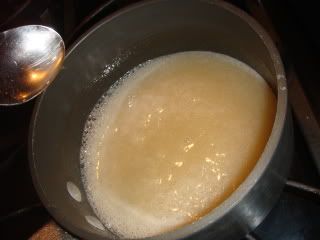 Another confession, I could not find brown rice syrup and just used corn syrup which I know goes against everything that I was trying to do, but I was desperate! Mix the two together:
Put in a pan and sprinkle the chocolate chips and press down. This is because the chips will melt, but I wonder since I wasn't using vegan chips it I could just mix them in. Next step, bake!
These were pretty good. They reminded me more of a rice cripsy treat than a granola bar, but that might be due to my corn syrup switch. I may try them later this week with honey/molasses instead. I got 12 bars and they were actually pretty big. I would divide and wrap them individually next time...lest mess!