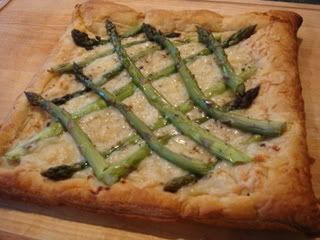 Asparagus is an easy one for me to do. I just drive to my parent's house and pick as much as I need from their garden. YUM! I used what I got today to make an asparagus gruyere tart. This was so easy to put together and was very impressive once it was done. I served mine as a side to steak, which made for a very rich meal...probably would be better with a nice fresh salad. I put my asparagus in a criss cross pattern, but next time I would keep everything in one layer and definitely add more asparagus!
Asparagus Gruyere Tart
Everyday food
Serves 4.
Flour, for work surface
1 frozen puff pastry
5 1/2 ounces Gruyere cheese, shredded (2 cups)
1 1/2 pounds medium or thick asparagus
1 tablespoon olive oil
Salt and pepper
Preheat oven to 400 degrees. On a floured surface, roll the puff pastry into a 16-by-10-inch rectangle. Trim uneven edges. Place pastry on a baking sheet. With a sharp knife, lightly score pastry 1 inch in from the edges to mark a rectangle. Using a fork, pierce pastry inside the markings at 1/2-inch intervals. Bake until golden, about 15 minutes.
Remove pastry shell from oven, and sprinkle with Gruyere. Trim the bottoms of the asparagus spears to fit crosswise inside the tart shell; arrange in a single layer over Gruyere, alternating ends and tips. Brush with oil, and season with salt and pepper. Bake until spears are tender, 20 to 25 minutes.