So, one of these showed up in my CSA share.
I mean, what the heck is that? Turns out it is called a "patty pan squash". No, I never heard of it, and didn't know what to do with it either. After some reseach on the web, I turned to my old standby - roasted. First, I trimmed the ends and the skin.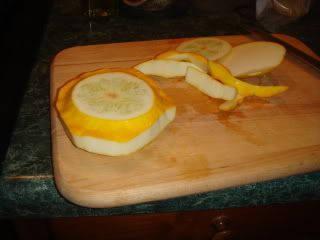 The top and the bottom definately should be cut off, but the skin is actually pretty thin. It is totally edible.
I then cubed it, then drizzled it with olive oil, the sprinkled salt and pepper, roasted at 400 for about 20 minutes. A before picture: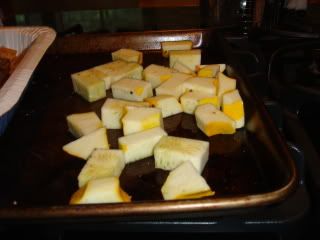 And after.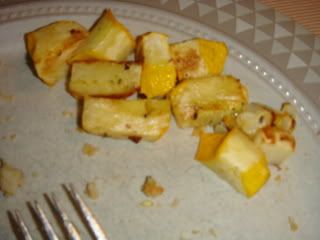 It is not the best picture because
it was leftover on Mark's plate!!
He ate it up the first night because he didn't know what it was. The second night all of a sudden, it was too wierd.
I really liked the patty pan squash. Regular yellow squash is really a little too squishy for me, but the texture of this was a little denser, more potato like. I would get this again.