I have been busy lately, but doing well CSA-wise. The new pick up is today and my fridge isn't still overwhelmed with last weeks produce. Here are some things I have made: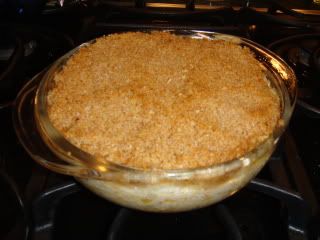 That is a squash casserole. My hope was that I could make a big batch and freeze some. Unfortuately, there wasn't enough to freeze. That is a pretty small baking dish, but the casserole is so rich, it ends up being a lot.
Sour Cream Squash with Two Cheeses
2 lb yellow squash
1 tsp salt
1/8 tsp sugar
7 TB butter (I used 2)
1/2 cup chopped onion
1 cup sharp cheddar
1 cup sour cream
1/3 cup parmesean
1/4 cup white wine (I actually used a splash of beer)
1 cup bread crumbs
- Cut squash into 1/4 inch slices. Bring 2 cups water to boil; add squash, sugar, and salt. Cook for 20 minutes
- Preheat oven to 350. Melt 4 (1) TB butter in skillet. Add onion and cook until transparent.
- When squash is done, drain, pressing to force out extra liquid. Stir onion and butter into squash. Add Cheddar, sour cream, parmesean, white wine, and salt and pepper to taste. Mix thoroughly and pour into baking dish.
- Melt remaining butter (1TB) in skillet and saute bread crumbs until warmed through. Top casserole with the crumbs and bake 20 - 30 minutes or until bubbly.
Not very healthy, but not bad every once in awhile served with grilled pork chops.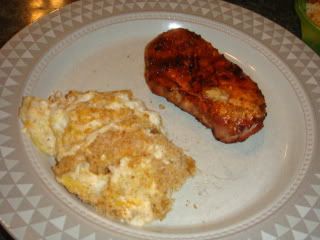 The next recipe help to use up some of this KALE! I just took a spinach quiche recipe from my Better Homes and Garden Cookbook and used KALE! instead.
1 store bought pie crust
1/2 cup chopped onion
6 slices of bacon, chopped
8 eggs
1/2 cup sour cream
1/2 cup milk
1/4 tsp salt
1/8 tsp pepper
dash grd nutmeg
3 cups chopped KALE!
2/3 cup mozzerella
1/2 cup parm cheese
- Unroll and bake pie crust at 450 for 8 minutes. Reduce oven temp to 325
- Cook onion and bacon in large skillet (don't do this, cook separately, the bacon never gets crisp)
- Mix eggs, sour cream, milk, salt, pepper, and nutmeg. Stir in onion, bacon, KALE! and cheeses
- Poor into pie crust. Bake at 325 for 45 minutes. Let stand 10 minutes before serving.
I served this with
Watermelon and Feta Salad
. I really liked this! The combo of the watermelon, black pepper, and feta was actually really nice. I added some mint as suggested by one of the reviews, but I probably would not do that again. Mark thought this was wierd, but the kids liked it.