Ever just have one of those days where you just shouldn't have bothered making dinner at all?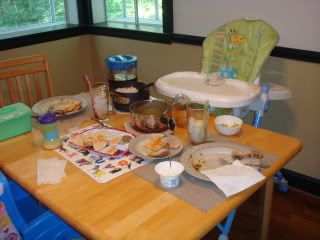 Really, our table looks like that every night, but I guess tonight it was particularly bad.
For my first recipes from this challenge, I just picked two easy ones for a weeknight: Andhra Spiced Eggplant (p49)and Bangla Dal With a Hint of Lime (p178). I did the eggplant one because I had a couple of eggplants from my CSA. I took a picture just before I roasted them because I thought they were pretty.
It was pretty good. Nothing really spectacular, but I would make it again if I was having people over and had some eggplant to get rid of. The only thing, it was pretty spicy. I might back off the amount of cayenne from any other recipes I will try. I ate it with some naan I bought at the store.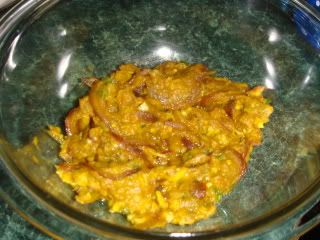 The dal was less interesting...just your basic beans and rice. I have tried other forms of dal that I have liked more, but to be honest, I forgot to add the lime which from the title, you might think is a key ingredient. The directions say to use red lentils and cook them in 5 cups of water. This really breaks them down so it really becomes sort of a mushy sauce to serve over rice.
I was worried about the heat, so I added a dolup of greek yogurt to help balance it out. The heat wasn't to bad for me, but needed more salt.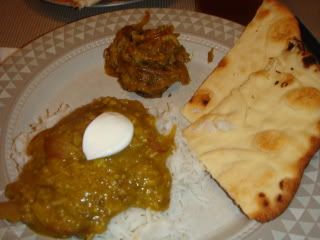 It is kind of funny. Both of these recipes are pretty much the same with the same ingredients, but they did turn out tasting pretty different.