First of all, let me just say that today is my son's first birthday. I am posting this on my cooking blog because a year ago, my ex-friend was just so pleased to tell me that she would love to see me in a year because there was no way I would be cooking as much as I was then. So, here on my COOKING BLOG I just wanted to say
PLLBBTTTTT
!!!!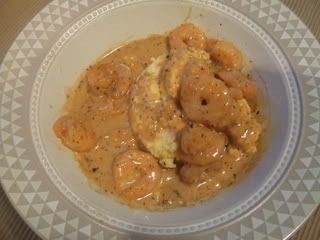 Last night I made shrimp and grits. I was
exhausted
from watching the football game Monday night, didn't have a whole lot in my fridge, but I did have about a pound of shrimp in the freezer leftover from when I made pad
thai
. I was thinking I could whip up something
cajun
, when I found a
shrimp and grits
recipe from Southern Living. I have tried many other recipes, but none have come close to the spicy, creamy concoction I had at my cousin's wedding. Well, this one came pretty darn close. First of all, it was SO SIMPLE to prepare. Everything came together in under 30 minutes. I made some changes to the recipe, most of them not on purpose, but the biggest ones were to use less butter ( 2TB) and add a bit of cream at the end to thicken the sauce a little bit more. If you don't have grits, use
polenta
, and I used some milk to make mine to give it a little more of a creamy texture. My one complaint is that it seemed a little to simple. I almost wish that there were onions or tomatoes in the sauce....Or maybe I was just wanted some of the steamed broccoli I made for my son to round out the meal. This one is
definitely
a repeater.